The INFINICUT® SM Rotary Mower is 34″ in width and is designed for use on football, rugby, and baseball playing surfaces, as well as by schools, universities and local governments.
Leading-edge cut quality
Innovative debris collection
Lithium battery power
Simple to manoeuvre
Transportation kit with detachable wheels
34" width
Design of the INFINICUT SM Pedestrian Rotary Mower
The INFINICUT® SM34 Rotary Mower is designed to elevate professional rotary mower performance to a new level. Simple to manoeuvre and with a design emphasis on cut quality and consistency, the INFINICUT® SM34 Rotary is not only environmentally friendly but is very much built fit for purpose with the user in mind.
Substantial 2.5Kw blade motor to power through the toughest of conditions.
High lift blade profile ensures maximum efficiency in grass and post-match debris collection.
70Ltr grass basket removal and attachment is simple and effective.
Transport kit ensures the rear roller traction drums remain damage free when transporting between venues.
Controls
Operational parameters programmable via BLE InfiniApp™.
HOC 15mm to 50mm, adjustable via Electronic Actuator – user programmable through InfiniApp™.
Ability to parallel rear roller to deck.
Mowing speed – 0-4mph
Transport speed – 0-6mph
Cruise Control is via regenerative braking
Blade Safety Braking – Yes
Parking Brake – Yes
Traction Drive – 1kw Continuous DC Motor
Blade Drive – 2.5kw Continuous DC Motor
Differential – Fully accessible
Power
Battery: 48V LiFePO 4, 60Ah Rapid Swap Out
Surface Type:
Football, baseball, rugby, sports grounds, schools and universities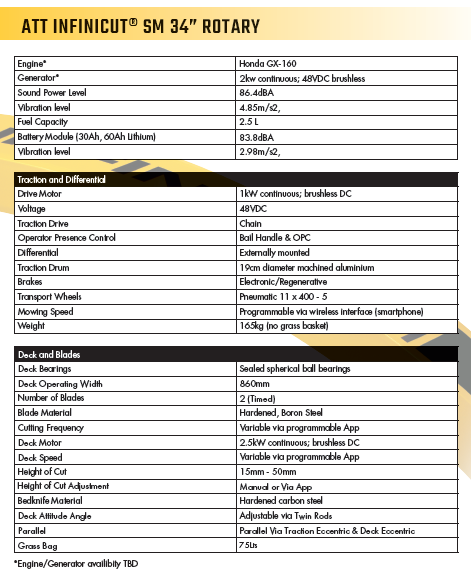 Model
Part Name
Part No.
SM34
Infiniapp Control System
IC-74190991-60L
Manual HOC adjustment kit
IC-74190994-60L