The INFINICUT FX & FL Cylinder Mower in the 34″ width is designed for use on football, rugby, and baseball playing surfaces, as well as by schools, universities and local governments.
This Infinicut mower is available as a Fixed or Floating Head Cylinder Mower.
Leading-edge cut quality
Lithium battery power
Lightweight with perfect balance
Interchangeable cassettes
Cool & warm season grass compatible
Available in 22″, 26″, and 34″ widths
Design of the INFINICUT FX & FL Pedestrian Cylinder Mower – 30 & 34"
The INFINICUT features a simple to adjust handle to guarantee a comfortable operating position with all controls simple to operate.
Ground pressure is transferred through three rollers. This reduces compaction and reduces plant stress.
Front roller can either be specified as smooth, grooved or Wyle.
The optional Rear Roller Power Brush makes for the ultimate in surface hygiene.
The detachable wheels aid transportation over concrete approaches.
Precise Controls
Clip rate can be pre-chosen or changed on the fly to maximise cut quality.
Cutting unit geometry is simple to change and adaptable to whatever turf conditions are present.
Cutting height range from 1.6mm to 42mm
Power
Battery: 48V LiFePO 4, 30Ah and 60Ah. Rapid Swap Out.
Engine option available on FX (Fixed Head) version. Rapid Swap out.
Cassette System:
In-house designed and manufactured cutting reel cassettes available in 7, 11 and 14 blade set up.
The INFINICUT® FX and FL mowers can be transformed into multi-use turf maintenance units for Grooming and Maintenance, by the introduction of cassettes from the TMSystem™
Suitable for all golf and sports turf surface
The INFINICUT range of mowers is the workstyle choice of top flight sporting venues worldwide and exclusive to Equipment Solutions in Australia.
Surface Type:
Football, baseball, rugby, sports grounds, schools and universities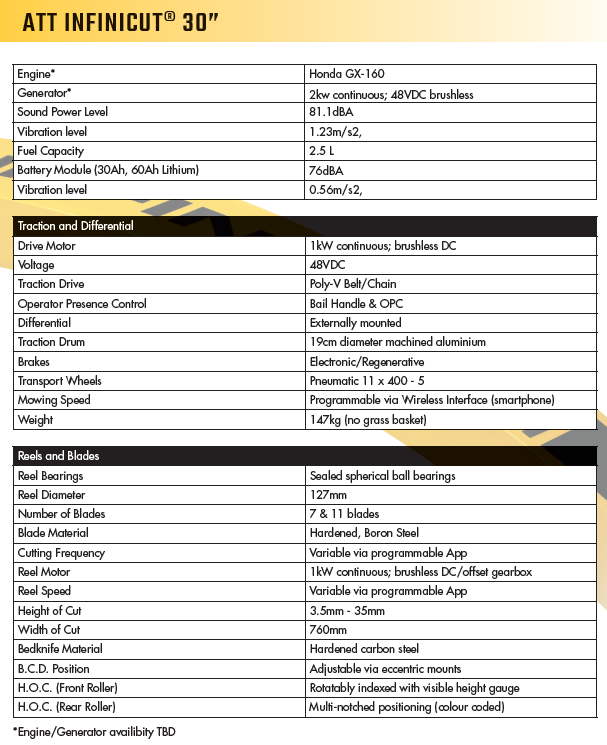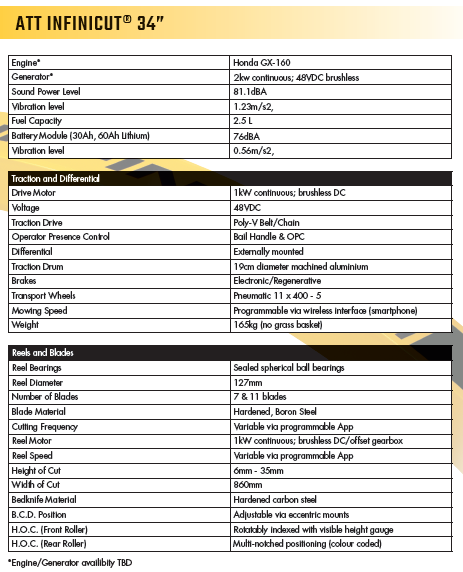 Model
Engine/Battery
Part No.
FX30

GX160 Petrol Engine

IC-74181330-PETROL

30AH Lithium Battery & Harness

IC-74181330-30L

60AH Lithium Battery & Harness

IC-74181330-60L

FL30

30AH Lithium Battery

IC-74181452-30L

60AH Lithium Battery

IC-74181452-60L

FX34

GX160 Petrol Engine

IC-74181330-PETROL

30AH Lithium Battery & Harness

IC-74181330-30L

60AH Lithium Battery & Harness

IC-74181330-60L

FL34

30AH Lithium Battery

IC-74181453-30L

60AH Lithium Battery

IC-74181453-60L